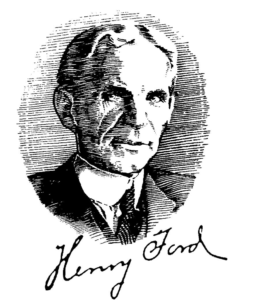 1863 – 1947
His Work Was Done
The great man died in bed at his beloved Fair Lane estate in Dearborn,
Michigan, a few minutes before midnight April 7, 1947.
Henry Ford was 83 and had made his mark as the most productive native son
in the history of the United States. As Edgar A. Guest said in his stirring radio
tribute, "We are all his debtors now. There is none of us, rich or poor, in humble
or high place, whose life has not been bettered by his labor. He came into this
world when the backs of men were weary and heavy laden. By the dreams
he had pursued and achieved, the burdens of drudgery were taken from the
shoulders of the humble and given to the steel and wheel."
This was a fitting eulogy for a man whose near saintly vision of a simple car for
the masses so transformed the world.