MINERAL WELLS GHOST TOUR
On March 30 a large group of members of the
FWMAFC drove as a group from Fort Worth to join
other members at the Richmond's family farm in
Weatherford where we enjoyed looking at their
showroom full of cars and antiques and then had a
hamburger. We then drove into Mineral Wells and
went on a ghost hunt! We had six stops to hear about
the history and hauntings of different buildings,
including the infamous Baker Hotel. Mineral Wells
is said to be one of the most haunted towns in
America, next to New Orleans. If you missed this
outing, you missed a good one!
Photos by Jordan
Douglass and Roland
Walden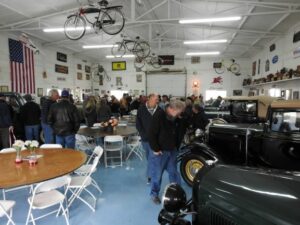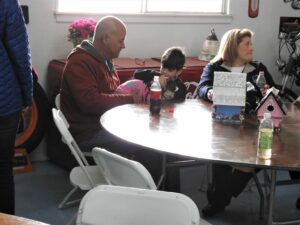 Valentine Party
We had a great time at the Valentine Party at Nikki's Italian Restaurant on February 16.  There were 46 family members signed up (listed below).  The food was delicious with your choice from four entrees, salad and drinks.  After late lunch, Jim and Janice Whisenand were awarded a box of chocolates for being married 59 years. Congratulations to them for being married the longest.   Everyone was offered to play a couple of word puzzles and then we played the Newlywed Couple Game.  There were three teams; Ross & Andrea Douglass were team 1, TJ & Sara Richmond were team 2 and George & Marilyn Maddox were team 3. After many questions that were to be answered by each spouse and answers compared for correctness, there was a three-way tie at the end of the game, so we had a bonus question and we still ended with a two-way tie between the Douglass and Richmond.  The Douglass and Richmond couples were each awarded a box of chocolates.
I would like to thank everyone who participated in the club social party;
Jim & Kim Baksinski, Chuck & Dianne Nixon, Randy & Otholene Minton, David & Marthetta Anderton, Jenifer Wilson & Rachel Okumu, Clint & Christina Johnson, Ethan Johnson, Bill & Becky Lee, JoMay Allen, Jim & Janice Whisenand, Jimmy & Marilyn Kuban, Bobby & Bernice Gilbert,  Dale Currie & Kathleen Gregory, Pete & Virginia Velasquez, Ken & Lynda Davis, Ross & Andrea Douglass, Jordon Douglass, David & Linda DeBlois, Robert & Linda DeBlois, Jerry & Mary Tucker, Colby Etheredge, Bob & Linda Houst and Elizabeth.
And a big thanks to my better half Miss Mary for planning and making this party a success.
Thank you again for coming and be sure to sign up for the Mineral Wells Tour on March 30th.
Jerry Tucker
Tours & Activities